EFT stands for Emotional Freedom Techniques, or as I like to call it, Energy Freedom Techniques. Because that's pretty much what EFT does—it frees blocked energy within your body's energy/meridian system, allowing it to once again flow smoothly and correctly through your body.  Once you free up that energy and begin to move up the vibrational energy scale, you'll be amazed at how you'll begin to attract more and better things into your life, as if by magic!
Gary Craig, the creator of EFT practices, strongly states that ALL negative emotions are caused by a disruption in the body's energy system. And once we open those blocks, we're once again free from pains, fears, phobias, negative emotions, diseases, you name it.
EFT opens these blocked energy pathways via "needleless acupuncture." By simply "tapping" with our fingertips on either the beginning or the end of the various meridian pathways in the body, the stimulation allows us to tap into and tap away the blockages, often within minutes.
So, simply put, EFT is like acupuncture without the needles and it's like traditional therapy except that instead of months or years, you can get complete relief from lifetime baggage within minutes or hours. It's extremely simple to learn and is also extremely rewarding when you watch the things that have stopped you for years just disappear in no time at all. Simply put . . . EFT is somewhat of a miracle!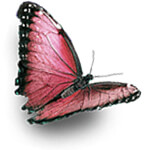 Important note: All information on this website is for educational purposes only. In no way is anything here intended to suggest that it is a substitute for proper medical care or good common sense. While EFT has produced remarkable clinical results, it must still be considered to be in the experimental stage and thus practitioners and the public must take complete responsibility for their use of it.  Joyce Walker accepts no responsibility or liability whatsoever for the use or misuse of the information contained on this website, including, but not limited to, EFT demonstrations, explanations, and related activities. We strongly advise that you seek appropriate professional advice before making any health decision.